Lube City Fleet Care Program
Thank you for taking this time to look into Lube City ® and our products and services. Whether your fleet has five vehicles or five hundred, Lube City can help meet your fleet maintenance requirements, reduce major repair costs and help minimize unnecessary downtime.
At present, Lube City ® is supplying services and products to over 1000 companies throughout Alberta. We offer a Care Program for your company fleet vehicles based on manufacturer's recommendations and our Best Value Package Full Service Oil & Filter Change. There is no appointment necessary and we get you in and out in an average of 15 minutes. Along with this service, we can also supply centralized billing, computerized invoicing to help you manage your maintenance and record-keeping, track warranties and service histories for every vehicle in your fleet, and establish care and dollar limits to assist you in maintaining your budget.
If you have any questions or require further information, please contact us, we'll be happy to help.
Tel: 780 461-7575
Toll Free: 877-600-5823
Email: [email protected]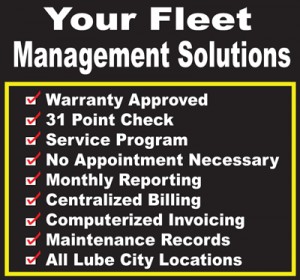 Lube City ® Express Oil Change offers several convenient ways for you to pay for service, track expenses and maintain efficiency.
National leasing programs
If you have a national leasing program in place, it can be a highly efficient way to track your expenses and let your drivers quickly maintain their vehicles at any of our stores. Lube City ® Express Oil Change service centers accept the following national leasing accounts.

Your company credit card (receive 7%-10% off invoice)
Your existing company credit card is welcome at Lube City ® Express Oil Change. It's already a valuable tool for tracking business expenses, so why not use it to manage fleet maintenance? You can stay in control of expenses with your customized maintenance plan option and offer your drivers service with no fuss. Lube City ® Express Oil Change service centers accept the following major credit cards.

Driver reimbursement (receive 7%-10% off invoice)
Offer your drivers the flexibility of paying any way they want – cash or credit – then receiving reimbursement from you. By setting up authorized services in advance, you help your drivers understand which services are authorized – and which ones aren't. The result is a smooth-running reimbursement program….where you only pay out for authorized services, and drivers always know what they should pay for.
Best Value Package :: Full Service Oil & Filter Change
1. Change oil to crankcase capacity (max. 5 liters)
2. Replace oil filter **
3. Lubricate entire chassis working zerks (max. 14 fittings if applicable)
4. Check transmission fluid (Automatic)
5. Check transaxle *
6. Check differential-front ~
7. Check differential-back ~
8. Check transfercase ~
9. Check and fill power steering fluid *
10. Check window washer fluid
11. Check battery (if applicable) **
12. Check brake fluid ~
13. Check air filter ** ~
14. Check breather element ** ~
15. Check PCV valve ** ~
16. Check windshield wiper blades ~
17. Check condition of belts and hoses ~
18. Check engine coolant **
19. Check exterior lights ~
20. Check exhaust system ~
21. Check universal-joints ~
22. Check axle boots ~
23. Check shock absorbers ~
24. Check steering linkage and suspension ~
25. Check for leaks ~
26. Wash exterior windows **
27. Inflate tires to recommended or preferred pressure **
28. Check tire condition ~
29. Lubricate door and hood hinges
*up to 1 liter **most vehicles ~visual inspection
* All Inspections Are Visual